October 03, 2023
Composite Index
6305.99
Composite Index Points Movement
1.46
Composite Index Percentage Movement
0.02%
Philequity PSE
Index Fund, Inc
---
Description
The Philippine Stock Exchange Index (PSEi) is the benchmark for the over-all performance of our local stock market. It is composed of 30 blue-chip stocks and tracks their performance from day to day.
For investors who are looking for an investment which mirrors the performance of the Philippine Stock Exchange Index (PSEi), Philequity PSE Index Fund (PPSE) is the perfect solution. With PPSE, you don't need to figure out the composition of the PSEi from day to day and use up large amounts of your money just to be able to buy the stocks which compose the index. All you need to do is buy shares in the mutual fund.
About PSE

The Philippine Stock Exchange (PSE) is the only stock exchange in the Philippines and one of the oldest stock exchanges in Asia, having been in continuous operation since the establishment of the Manila Stock Exchange in 1927.
As its benchmark and main index for local investors, the PSE developed the PSEi—a fixed basket of the 30 listed companies in the Philippines. The PSEi measures the relative changes in the free float-adjusted market capitalization of the 30 largest and most active common stocks in the exchange.
Investment Objective
PPSE is a growth-oriented mutual fund that tracks the performance of the Philippine Stock Exchange Index (PSEi). It is the ideal choice for investors looking for long-term capital appreciation but do not have the expertise and resources necessary to mirror the PSEi
Top 10 Holdings
Name
Industry
% of Fund
PLDT
Telecoms
18.2%
Ayala Land Inc.
Property
6.5%
Energy Dev't Corp.
Energy Alternate Sources
5.8%
BPI
Banks
5.4%
Ayala Corp.
Holding Companies-Divers
5.1%
Meralco
Electric
4.5%
SM Investments
Investment Companies
4.4%
MetroBank
Banks
3.5%
Abpitiz Equities Ventures
Holding Companies - Divers
3.5%
SM Prime Holdings
Properties
3.0%
Sector Holdings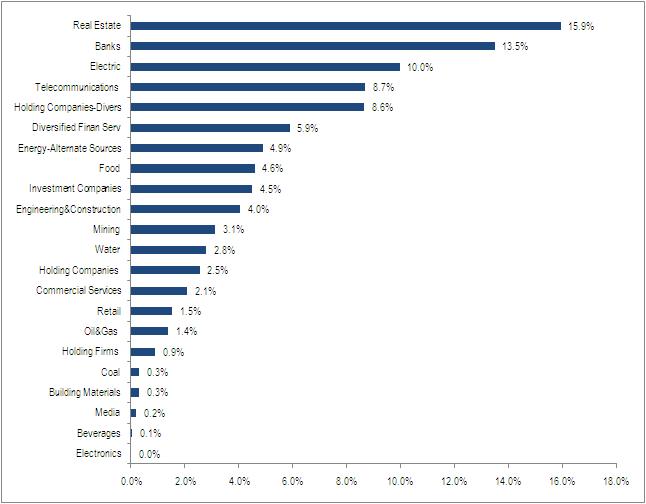 A mutual fund investment involves risk. The value of the fund may go up and down. Returns from this investment are not guaranteed by Philequity Management, Inc. Any gains or losses from the investment are solely for the account of the investor. Past performance is not necessarily a guide to future performance. A mutual fund is not a deposit product and is not insured with the Philippine Deposit Insurance Corporation (PDIC).
---